Summary: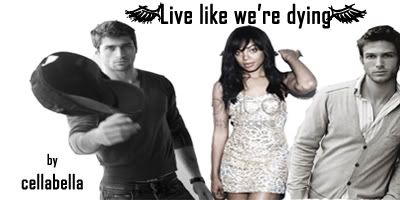 "We only got 86,400 seconds in a day to
Turn it all around or to throw it all away
We gotta tell them that we love them
While we got the chance to say
Gotta live like we're dying"
Mimi Balfour lives each day knowing that no matter how bad it gets, the sun will rise in the morning. She's a student at the pinnacle of the social society of Cape Town, and her relationship with one the most influential families' son, Karl Muller, only adds to her image as a "Black Diamond." The only person she hides her relationship is from her difficult father, who hates everything Karl's family stands for. Then she meets Alessio la Scala, who lives each day knowing that he may not see another sunrise. Does Alessio end up influencing Mimi's heart, and not just her mind and body?
Table of Contents
Categories:
Original Fiction
Characters:
Original Character(s)
Classification:
None
Genre:
Erotica
,
Friendship
,
Romance
Story Status:
None
Pairings:
None
Warnings:
Original Characters
,
Sexual Content
Series:
None
Chapters:
4
Completed:
No
Word count:
7338
Read Count:
3046
Published:
26/09/10
Updated:
18/04/11