Summary: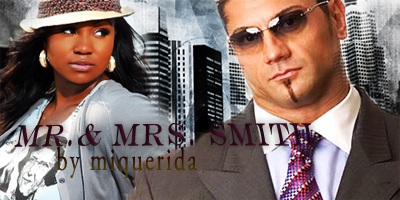 Jack and Jill Smith are in a marital rut. After six years of wedded bliss, they find that the once loving marriage has turned into a mundane, boring, ordinary life in the suburbs. They argue about everything; their sex life is practically nonexistent. They also are keeping secrets from each other: both are hired assassins for black ops agencies. Jack works for Convert Mission Agency (CMA); Jill works for National Intelligence Agency (NIA). Jack's cover is a financial analyst and Jill's cover is an interior designer. Jack and Jill decide to go to a Marriage Counselor in a last ditch effort to save their marriage. Can Dr. Anna Richards help save the failing marriage, or will the secrets and unseen enemies destroy Jack and Jill? When Jack is put in a dangerous situation, will Jill be able to save her man in time before it's too late?
Disclaimer: All publicly recognizable characters, settings, etc. are the property of their respective owners. The original characters and plot are the property of the author. The author is in no way associated with the owners, creators or producers of any media franchise. No copyright infringement is intended.
I owe a VERY SPECIAL HUGE THANK YOU to Junebug66! Thank you for your patience, your kindness and for being understanding to a newbie!
I owe a VERY VERY SPECIAL EXTREMELY HUGE THANK YOU THANK YOU THANK YOU to QUEEN MINX for the BEAUTIFUL banner. Your Royal Highness, I'm honored that you chose to help a little newbie like me! I'm SO UNWORTHY to be among such GREATNESS lol. I hope I can do the story justice so it will work with that OH SO BEAUTIFUL banner!
THANK YOU THANK YOU THANK YOU
*chel does a curtsy in front of DA QUEEN*
Table of Contents
Categories:
Movies
,
Original Fiction
Characters:
None
Classification:
Alternate Universe
,
Cannon
,
General
,
Off Cannon
Genre:
Action-Adventure
,
Comedy
,
Drama
,
Erotica
,
Romance
Story Status:
None
Pairings:
Male/Female
Warnings:
Adult Situations
,
BDSM
,
Crackfic
,
Dark Fic
,
Drugs/Drug Use
,
Dubcon
,
Extreme Language
,
Graphic Violence
,
Original Characters
,
Racism
,
Sexual Content
,
Strong Sexual Content
,
Un-betaed
,
Work in Progress
Series:
Movie Night
Chapters:
36
Completed:
No
Word count:
52991
Read Count:
34470
Published:
04/06/10
Updated:
26/11/10