Summary: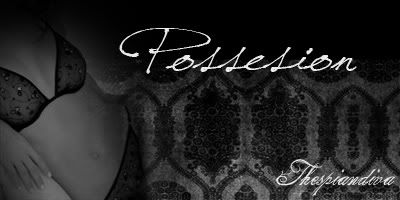 pos·ses·sion   [puh-zesh-uhn]
-noun
1.
the act or fact of possessing.
2.
the state of being possessed.
3.
ownership.
4.
Law . actual holding or occupancy, either with or without rights of ownership.
5.
a thing possessed: He packed all his possessions into one trunk.
6.
possessions, property or wealth.
7.
a territorial dominion of a state.
8.
Sports .
a.
physical control of the ball or puck by a player or team: He didn't have full possession when he was tackled.
b.
the right of a team to put the ball into play: They had possession after the other team sank a free throw.
9.
control over oneself, one's mind, etc.
10.
domination, actuation, or obsession by a feeling, idea, etc.
11.
the feeling or idea itself.
Table of Contents
Categories:
Original Fiction
Characters:
None
Classification:
None
Genre:
Erotica
Story Status:
None
Pairings:
None
Warnings:
Dark Fic
,
Strong Sexual Content
,
Un-betaed
Challenges:
The "Less is More" Challenge
Series:
None
Chapters:
1
Completed:
Yes
Word count:
451
Read Count:
1614
Published:
24/07/10
Updated:
24/07/10